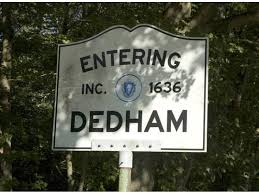 Dedham is a suburb of Boston it is in Norfolk County and is one of the best places to live in Massachusetts. Living in Dedham offers residents a suburban feel, and most residents own their homes. In Dedham, there are a lot of restaurants, coffee shops, and parks. Many young professionals and retirees live in Dedham and residents tend to be liberal. The public schools in Dedham are highly rated.
Settled in 1635 by people from Roxbury and Watertown, Dedham was incorporated in 1636. It became the county seat of Norfolk County when the county was formed from parts of Suffolk County on March 26, 1793. The boundaries of the town at the time stretched to the Rhode Island border.
The local Endicott Estate burned to the ground in 1904 after the local volunteer fire department, responding to three separate fires burning simultaneously, reached the Endicott fire last. By the time they arrived, only ashes had remained. It is said that the estate's owner, Henry Bradford Endicott took the burning of the homestead as a divine command to rebuild (which he did). The restored Endicott Estate is listed on the National Register of Historic Places. The estate and surrounding grounds are open to the public, upholding Henry's stepdaughter Katherine's wish to use the house and property for "educational, civic, social and recreational purposes."
Dedham is made up of many neighborhoods:

In the geographical center of town is Oakdale. It is roughly defined by East Street to the west, Cedar Street to the south and east, and Whiting Ave to the north. The houses in the area around Woodleigh Road, which was declared to be one of the best streets in Greater Boston, have many homes designed by Henry Bailey Alden, who also designed the Endicott Estate.

Nearby the subdivision consisting of Morse Avenue, Fulton Street, and Edison Avenue, is named Whiting Park.


Riverdale is an island surrounded by the Charles River and Long Ditch.


Greenlodge runs along the axis of Greenlodge Street and the area between Greenlodge Street and East Street.


The Manor comprises the neighborhood south of Sprague Street.

East Dedham falls between Mother Brook and the Boston line.


Precinct One, or Upper Dedham, is in the northwest corner of the town, between High Street and Common Street and the Westwood and Needham lines.


Ashcroft is the neighborhood between Cedar Street and Sprague Street. It includes Paul Park and the Capen School.


Fairbanks is the neighborhood between East Street and Wigwam Pond.


Population - 25,272 (2015 census)
Transportation: MBTA Rail Service: Commuter Rail: Dedham Corp Center, Endicott Station, Islington. Franklin Line. Bus Service MBTA: 34E. Town Service: Dedham on the Move Shuttle, Serving: Spring St., Dedham Mall, East Dedham, Dedham Plaza, Legacy Place, Dedham Corp Center, Endicott Station.