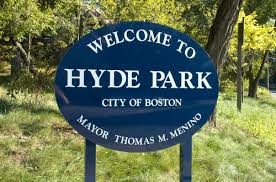 Hyde Park is the southernmost neighborhood of Boston. In 1845, retired businessman Henry Grew took his family on vacation to an area south of the City of Boston, in what was then the western section of Dorchester, and came to a spot in the Neponset River valley with an unexpectedly pleasant view of the nearby Blue Hills. He purchased several hundred acres of land there (which later became known as "Grew's Woods," partially preserved today as the Stony Brook Reservation and the George Wright Golf Course) and moved to the area in 1847.
The Town of Hyde Park was incorporated on April 22, 1868, in Norfolk County from the settled land in Dorchester (Grew's Woods and the Hyde Park Land Company development), Milton (Fairmount) and Dedham (Readville). It remained a part of Norfolk County until 1912 when the town voted in favor of annexation to the City of Boston in Suffolk County.


It is home to a diverse range of people, housing types and social groups. It is an urban location with suburban characteristics. Hyde Park has taken the motto "A Small Town in the City" because of its suburban feel.
The extension of rail lines from Boston in the 1850s spurred the area's residential development. Hyde Park's central business district, located between Cleary and Logan Squares, features a variety of historic buildings, including the neighborhood's municipal building, which was built by the City of Boston after the 1912 annexation. The Hyde Park YMCA was established in 1902; a major renovation of the original facility was completed in 2010.

The George Wright Golf Course, named for Baseball Hall of Fame and Boston Red Stockings shortstop George Wright, is in Hyde Park and Roslindale. It is a Donald Ross-designed course and is considered one of his most exceptional designs.